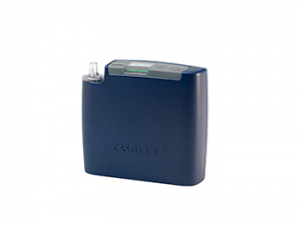 Apex2 Air Sampling Pump
The Apex2 is a truly class beating personal sampling pump.  It combines impressive performance capabilities with ergonomic design.
What is a personal air sampling pump?
A personal air sampling pump is a bodily worn pump used to sample for airborne contaminants that can be damaging to health. They control the flow of air very carefully to ensure a known volume of air is sampled. So when monitoring for dusts, where the back pressure will increase as dust is collected, the pump maintains the flow at the correct level.
Monitoring for dust is usually achieved by sampling air onto a pre-weighed filter, which is then weighed after sampling and the dust concentration calculated. Monitoring for gases and vapours uses the same air sampling pump, but generally at a lower flow and using sorbent tubes or other media.
The Apex2 range of personal sampling pumps are the next generation, offering class beating performance with great new features.
Stay Connected!
Monitor your Apex2 personal sampling pump remotely with Bluetooth 4.0* and the supporting Airwave app (available from Google Play and the Appstore) on your mobile device.  There's no need to disturb the wearer from what they're doing when you can view the status of the Apex2 or even start, stop or pause the run direct from you mobile device.  The dashboard display provides the run data at a glance and you can email this data alongside situational photographs and notes direct to your laptop making your reporting easier.
(* Plus and Pro Models only)
Class Beating Performance!
Whatever media you're using you can be assured that the Apex2 personal sampling pump has the power to handle any personal monitoring regime.  Optimised at around 2l/min, the flow at which most Occupational Hygiene measurements are made, the Apex2 personal sampling pump has outstanding back pressure capability.  There are no more worries about battery life:  The Apex2 personal sampling pump has high performing Li Ion batteries and an intelligent battery life indicator letting you know exactly how much charge you have left.  And with the Apex2 performing with a pulsation value of ~10% you can have true confidence in the integrity of your samples.
Wearer Acceptance!
With its slim, ergonomic design, the pump is less obtrusive to the wearer allowing them to carry on with their job whilst being monitored.  A sturdy clip with a lifetime guarantee means it's secure and the detachable rubber boot guards against knocks.  Ingress resistant to IP65 means that you can use it in the harshest environments and its smooth finish means it's easy to decontaminate.
Data and Reporting
The Apex2 personal sampling pump can store up to 200 separate runs, storing data including start time and date, duration, volume sampled and the motion index meaning that you have a permanent record of your data.  It also records events such as pauses.  This data can be transferred from the Apex2 via the docking station and a data download utility to your pc.  The resulting data is in excel format allowing you easier reporting and the ability to tie up lab results, photos and notes.
Simple Operation
The Apex2 personal sampling pump has a simple user interface and menu structure.  Using only 4 buttons you can easily navigate through the colour coded start and set-up menus – just requiring one key press to start or continue a run.  Data from the current run/ last run is continually displayed clearly on the full colour screen allowing you to, at a glance, refer or make notes on your sample.
Low Flow or Multiple Measurements*
Casella has also included a 'Constant Pressure Mode' in the Apex2 personal sampling pump.  This allows you to set the pressure rather than the flow rate – as you would do in low flow measurements.  This means that the Apex2 personal sampling pump is ideal if you are monitoring for gases but also if you would like to sample for multiple hazards.  Please read our application note on the Constant Pressure Mode.
(* Plus and Pro Models only)
Great User Features
The Apex2 personal sampling pump has some additional great features to make your life easier too – a motion detector that lets you know that the pump is being worn so you can be sure your sample is a valid one and with a fault detector and automatic restart too you can have total confidence in your results.  We have included a user lock to avoid any interference during a run and a highly visible status indicator gives you peace of mind.  To enable easier sampling, you also have the ability to set timers and programmes in the Plus and Pro models.  And if you need a grab sample there's a bag outlet to easily collect these.
Intrinsically Safe
All models of the Apex2 are Intrinsically Safe (IECEx). The Apex2 has been designed specifically to be used in potentially explosive areas in the oil and gas, petrochemical and pharmaceutical industries as well as being suitable for use in the mining industry.
– Ex ia I MA
– Ex ia IIC T4 Ga
– Ex ia IIIC T135°C Da
(Ta = -20°C to +45°C