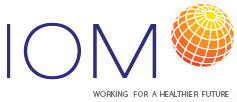 IOM Laboratory Services are the preferred laboratory partners of Casella, the UK's leading supplier of noise measurement and air sampling solutions.
The Institute of Occupational Medicine (IOM) has an international reputation for excellence across all industry sectors from high technology to heavy industry. An understanding of workplace health is critical to every business and IOM can provide the expertise to ensure your organisation is at the forefront of good practice as we work together for a healthier future.
The IOM lab will provide you with high quality analytical results at competitive prices and within agreed timescales. We tailor our services to assist you in managing your workplace or environmental risks.
Our well-equipped facilities enable us to undertake a wide range of chemical and mineralogical analysis and with over 40 years of experience we can help with more complex investigations too.
Our expertise includes;
Asbestos and other fibres
Dust and Crystalline Silica
Metals and Acid Gases
Solvents and Organic Chemicals
Pharmaceuticals
Microbiology
Testing of Protective Clothing
Most routine analysis is covered by our ISO 17025 UKAS accreditation and we are able to provide sampling media: tubes, badges and filters for most types of analysis.
For more information visit our website : – www.iom-world.org
Or contact the lab directly 0131 449 8067
carolyn.mcgonagle@iom-world.org or steve.clark@iom-world.org